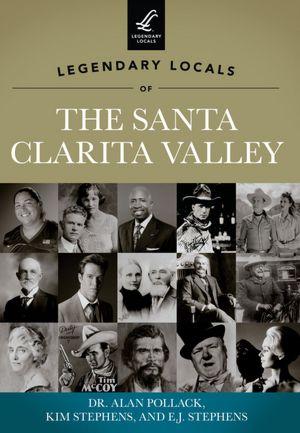 The Old Town Newhall Library will welcome three local authors on Saturday, December 15 at 10:30 a.m. at a free event to discuss their recent book on Santa Clarita Valley history, released in September 2012.
"Legendary Locals of the Santa Clarita Valley" is coauthored by SCV Historical Society President Dr. Alan Pollack and local authors and Hollywood history tour guides E.J. and Kim Stephens.
According to the description on the back cover, the book tells the stories of "cowboys, Native Americans, outlaws, farmers, shepherds, soldiers, miners, range warriors, ranchers, saloon keepers, stagecoach drivers, railroaders, town drunks, teetotalers, engineers, land speculators, explorers, missionaries, actors and common folk that make the history of the Santa Clarita Valley so compelling."
"Legendary Locals" is an imprint of Arcadia Publishing and is an effort to capture the lives and history of communities all over the country. Click here to view the complete collection.
"Legendary Locals of the Santa Clarita Valley" will be available for purchase at the event, as well as on Amazon.com, here. For more information contact Library Services Coordinator Jessica Sutorus at 661-799-6103.