Reminding Santa Clarita Valley residents that no community is immune from the effects of illegal drugs, city staff are hosting the third annual "Heroin Kills" Symposium on Wednesday, Aug. 28 at 6:30 p.m. at the Santa Clarita Activities Center on Centre Pointe Parkway.
---
Don't miss a thing. Get breaking Santa Clarita news alerts delivered right to your inbox.
---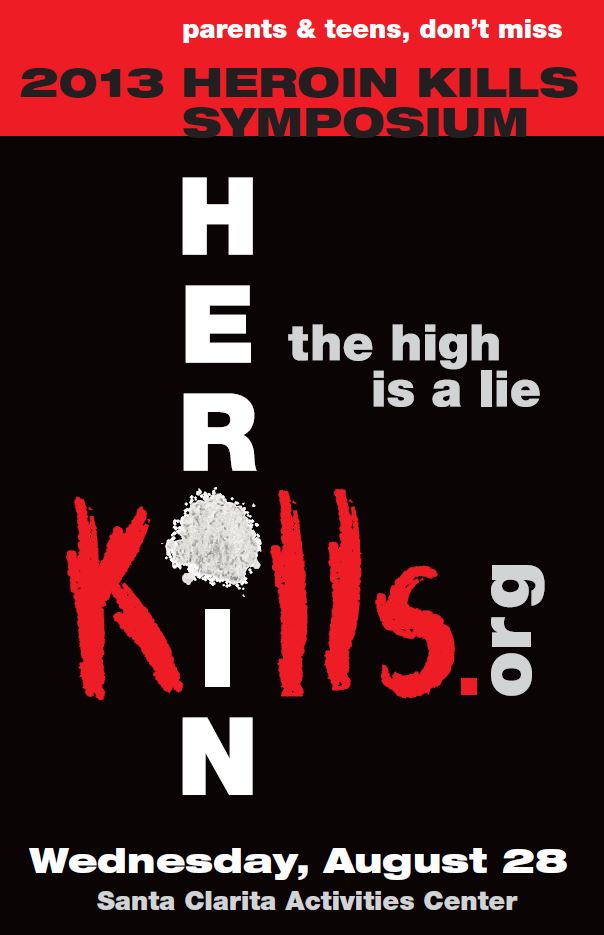 Parents will learn how to identify the signs of drug abuse in their children, the nature of addiction and where they can turn for help.
The symposium will also feature a panel of experts, including deputies from the Santa Clarita Valley Sheriff's Station, a doctor from Henry Mayo Newhall Memorial Hospital, Cary Quashen from Action Family Counseling, Carl Goldman of KHTS AM-1220 and other community leaders.
"We're looking to show what Santa Clarita is doing to address the drug issue," said Janine Prado, city human services administrator.
New to this year's program will be a demonstration by Detective William Velek, using actual paraphernalia seized in Santa Clarita, showing how drug users hide their habits from their parents.
Velek said that hiding places for drugs could include a lint brush, trophy, tennis ball or "stash" cans designed to look like soda cans, usually anything with a hollow spot in it.
There will also be a presentation by Deputy Josh Dubin, showing the shocking reality of what teens are seeing and posting on social media, including where to find drugs.
"Heroin and prescription pill abuse has destroyed far too many Santa Clarita families," said Mayor Bob Kellar. "As a city, we continue to fight back, and one of the best things community members can do is to get informed and the purpose of the symposium is to give parents and youth the tools they need to keep their family members safe."
The event is free and open to the public. To learn more, contact Prado at 661-250-3708. For more information regarding heroin in Santa Clarita, visit HeroinKills.org or the Heroin Kills Facebook page.
---
Do you have a news tip? Call us at (661) 298-1220, or drop us a line at community@hometownstation.com.
---
---

Source: Santa Clarita News

---