Sulphur Springs School District officials, along with Pinetree Community School faculty, welcomed residents Friday to help celebrate the elementary school's 30th year in serving families and educating children.
Don't miss a thing. Get breaking KHTS Santa Clarita News Alerts delivered right to your inbox.
Dozens of community members assembled on the field for a presentation at Pinetree's campus in Canyon Country.
Students, along with their families, showed school spirit in green and grey Pinetree apparel at the event.
Principal Deb Stilson said that school administrators and students had been planning to host this event for the community, which featured various activities and displays for guests.
Stilson said that the event began as a time to commemorate the history behind Pinetree, but eventually evolved into a celebration of all those individuals who had helped make Pinetree the success that it is today.
Dr. Catherine Kawaguchi, Sulphur Springs School District superintendent, attended the event to recognize Pinetree staff for their commitment as educators over the years.
"As a district we are really proud to be here today to celebrate Pinetree's 30th anniversary. It's taken three decades of great people to make Pinetree what it is today," said Kawaguchi.
Sulphur Springs School District administration, along with Pinetree faculty, were presented with certificates by city, county and state officials in observance for the school's pledge to the community.
Dante Acosta, California State assemblyman for the 38th district and member of the community, commended the school's service.
Laurene Weste, City of Santa Clarita mayor, presented the district with a certificate honoring Pinetree Community School administrators for their 30 years of service.
"Every time I'm here, it always reminds me how blessed we are to have such an amazing place in our valley where kids can go to school," said Weste. "They're never going to forget this experience and they're always going to remember the lessons they learned here, the amazing teachers, the parents being involved and the friends they make."
Daniel Clegg, Santa Clarita resident and alumni of the first Pinetree graduation class of 1988, who currently has two kids attending Pinetree, brought his family to support the event.
"I grew up in this neighborhood, running through these hills. Being a part of this school is huge and that's why me and my family (are) close by," said Clegg. "Seeing it grow over the years has been amazing. I know it's destined for cool future things and now my kids get to be apart of it."
Stilson also invited Discovery Education to the celebration as an outside educational source to provide students with resources for new technologies at the event.
"Most importantly we wanted to have the students showcase their S.T.E.A.M (science, technology, engineering, art  and mathematics) learning so there's going to be demonstrations of what they have been learning in class," said Stilson.
Joe Brumfield, director of Discovery Education, provided three different interactive displays for parents and students to learn through hands-on experience.
"We have three particular stations here today," said Brumfield. "Just fun stuff for their 30th anniversary. I know this school is very much involved in S.T.E.A.M., and Discovery Education has some of the best pieces for it."
Pinetree PTA and staff teamed up to organize a museum in the multi-purpose room that tracked the school's history.
Many attendees were able to get a glimpse into the past three decades with Pinetree memorabilia on display for all to see.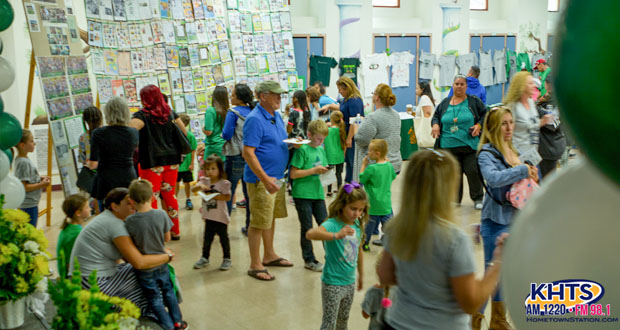 Do you have a news tip? Call us at (661) 298-1220, or send an email to newstip@hometownstation.com.
Report a typo or error, email Corrections@hometownstation.com
KHTS FM 98.1 and AM 1220 is Santa Clarita's only local radio station. KHTS mixes in a combination of news, traffic, sports, and features along with your favorite adult contemporary hits. Santa Clarita news and features are delivered throughout the day over our airwaves, on our website and through a variety of social media platforms. Our KHTS national award-winning daily news briefs are now read daily by 34,000+ residents. A vibrant member of the Santa Clarita community, the KHTS broadcast signal reaches all of the Santa Clarita Valley and parts of the high desert communities located in the Antelope Valley. The station streams its talk shows over the web, reaching a potentially worldwide audience. Follow @KHTSRadio on Facebook, Twitter, and Instagram.