In 2004, Priscilla and Ammon Kling became first-time parents, excited to welcome their child Kelsey into the world.
Don't miss a thing. Get breaking KHTS Santa Clarita News Alerts delivered right to your inbox.
Kelsey was a happy baby, always smiling and socializing, until, they said, all of a sudden, at age four, she started experiencing learning difficulties.
When it came to walking, potty training and preschool, the differences between the toddler and her classmates were becoming more apparent.
Kelsey's pre-school teacher told her mother that she wasn't retaining information and suggested that she get tested for a learning disability.
Doctors found that the four-year-old had borderline intellectual functioning, an intellectual disability.
At the age of six, a psychologist evaluated Kelsey and asked if she had ever experienced seizures. She had never had a seizure before, but the question remained in the back of the minds of her parents.
Two years later, on Super Bowl Sunday in 2012, Kelsey started to complain of stomach pains and was developing a fever. Her mother quickly called the doctor, who recommended Motrin for what he suspected was a cold.
That same night, Kelsey was sleeping with her mother when her body began shaking and for two minutes she experienced violent convulsions.
The family soon learned that Kelsey had experienced a "Grand Mal Seizure," possibly due to a high fever. Two weeks later, while in the backseat of the family car, she began vomiting and convulsing violently.
Priscilla rushed to the hospital, only to begin the long journey they are on now.
"It's hard to take the next step if you don't know where to start," said Vanacore.
First, the family was told she suffered from epilepsy, but only hours later received a different diagnosis: Kelsey had brain atrophy.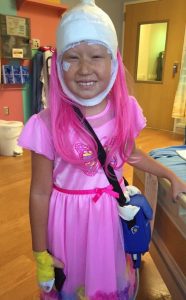 Brain atrophy means loss of cells, which describes a loss of neurons and the connection between them. If both cerebral hemispheres are affected, conscious thought and voluntary processes may be impaired, according to the National Institute of Neurological Disorders and Stroke.
The Klings became overwhelmed with the diagnosis, and asked the doctor " what would you do if it was your daughter?"
"I would pray," the doctor told them.
The family began searching for a second opinion, which led them to see a neurologist at Children's Hospital Los Angeles.
Yet another doctor diagnosed her with epilepsy.
Test after test, each doctor seemed to have their own prognosis of Kelsey's condition. No one could say for sure if her brain was shrinking, so the Klings decided to focus on getting the seizures under control.
"It's hard to watch," said Jessica Vanacore, Kelsey's cousin. "It's not easy on anybody."
Six months later, Kelsey didn't have any seizures and was learning at an acceptable rate.
This gave the family hope that she might live a normal life, until another six months went by and her seizures began again.
In 2013, when Kelsey was eight, UCLA had developed a test that could determine if a patient's seizures could be stopped with surgery. After eight days of electroencephalogram (EEG) testing, the Kling family was given the news that she was not a candidate for surgery because her seizures were coming from several parts of her brain.
The Klings then packed their bags and headed to Minnesota to visit the Mayo Clinic.
Kelsey underwent a spinal tap, MRIs, CT scans, EEG tests and a skin test.
When the results came back, the family was informed that there was a high probability that Kelsey had Mitochondrial Disease and also confirmed the presence of brain atrophy, which could be linked to the disease.
As time passed, she was pulled out of school, Priscilla became a full-time caregiver, and the seizures continued.
Today, the 13-year-old is still undiagnosed. She can no longer walk or talk, she relies on diapers and was recently fitted for a custom wheelchair.
Although the family has been on an emotional rollercoaster for many years, they eagerly wait for the results of a UCLA trial that involves stem cells.
"We'd like to get the word out there and see if maybe there's a family who has a child with the same symptoms," said Vanacore.
Her family hopes that by sharing her experience and medical history with the public, that the power of the internet and social media will bring them answers or assistance from someone.
"Our main goal is to find somebody who can diagnose her. Maybe it's a new disease," said Vanacore.
Because Kelsey is still undiagnosed, many insurances don't cover the cost of her medical bills and she needs a lot of help at this point, her family said.
"If anyone wants to help in the form of volunteering their time, she needs water therapy to keep up her ability and someone who knows pressure points to keep the circulation going in her legs," said Vanacore.
The family is also accepting donations, which will go directly to Kelsey's medical expenses and treatment.
Did you spot a correction? Let us know by emailing Corrections@hometownstation.com
KHTS FM 98.1 and AM 1220 is Santa Clarita's only local radio station. KHTS mixes in a combination of news, traffic, sports, and features along with your favorite adult contemporary hits. Santa Clarita news and features are delivered throughout the day over our airwaves, on our website and through a variety of social media platforms. Our KHTS national award-winning daily news briefs are now read daily by 34,000+ residents. A vibrant member of the Santa Clarita community, the KHTS broadcast signal reaches all of the Santa Clarita Valley and parts of the high desert communities located in the Antelope Valley. The station streams its talk shows over the web, reaching a potentially worldwide audience. Follow @KHTSRadio on Facebook, Twitter, and Instagram.