After nearly six weeks of quarantine in both Japan and  Omaha, Nebraska, KHTS Owner Carl Goldman has finally received a negative test for COVID-19 after nearly 30 days of positive tests.
Back In The States With The Coronavirus – Day 38 & 39 (Friday/Saturday)
On Saturday evening I received a blue Post-It Note. My first negative. Hallelujah! One down, two more to go.
I am choosing not to get too optimistic. Patients have tested negative only to be followed by another positive test. I'll get more excited tomorrow when my second test comes out negative. I need three negatives, 24-hours apart to be released from quarantine at Nebraska Medicine in Omaha. I will no longer have the coronavirus, COVID-19.
Earlier in the day, we learned a patient tested positive for 37 days. That's the longest on record. Saturday is day 29 for me. 37 is a record I don't want to break.
Earlier in the day my friend Mark Jorgensen, who is now quarantined at his home in St. George, Utah and I exchanged texts to see if either of us wanted to go for the record. We are both very competitive. Mark is a huge Seinfeld fan (who isn't?). He sent me a clip of one of their funnier scenes that is so poignant in today's environment. Enjoy.
The CDC still hasn't set protocol for our second test to be flown back to their headquarters in Atlanta. It's very frustrating.
It's particularly perplexing because if it proves the theory that while their current PCR test is effective in testing for the virus, it may be flawed as we recover. A small percentage of us may have dead virus cells lingering in our bodies. We may no longer be contagious, yet the PCR test might not be distinguishing between dead cells and active ones.
The plan is to have our samples flown to Atlanta, placed in a petri dish and watch the cultures grow for five or six days to see if the virus is still active.
The CDC's lack of movement on implementation is frustrating for two reasons. First, it may speed up my release if one of my next two tests turn positive again, and second, if it proves the current PCR test contradicts the Atlanta findings, it could mean the release of patients a lot sooner, relieving our already stressed medical infrastructure as the outbreak continues to expand.
Vox Media put out a fascinating short documentary on the origins of the coronavirus, COVID-19. It's very much worth the watch.
I'm proud of Santa Clarita. We now have many volunteers to assist my wife in picking up the dog poop in our backyard. I'm not sure if they are willing to give up a roll toilet paper that's been hoarded, but they are very generous with the other excrement clean up.
Things are sure different in Santa Clarita since we flew to Tokyo on January 17. Toilet paper hoarding, school closures, Six Flag's Magic Mountain shut down, fights in line at Costco, no food or supplies available and the list goes on-and-on. I suspect there's a run on bidets. It's a good thing I'm not home. If I had to install a bidet in our bathroom, the water would hit every appendage except my butt.
Our valley now has two patients who tested positive for the novel corona virus, COVID-19 through Henry Mayo Newhall Hospital. They are not staying at the hospital.
We should all try to remain calm. Stress is not a friend of our immune system. Psychologists are sharing we should limit media and social media consumption to a few times a day, 30-minutes at a time to keep our stress from ramping up.  Don't stay glued to the all-news networks. That advice is also coming from me, your local media guy.
Mariam Levy sent me a video of the Hart High School Show Choir winning their last championship. Mariam suggested I could follow their moves while doing my daily 10,000 steps for additional exercise.
Mariam is unaware I could compete for the worst dancer in Santa Clarita. I avoided cotillion in Junior High. About a dozen years ago my wife insisted we take a ballroom dancing class. The class had a front window looking out on a busy Lyons Avenue in Newhall making the experience even more intimidating.
I was so bad even my wife refused to dance with me. Our male instructor, feeling very sorry for me replaced Jeri as my partner. Passerbys still occasionally provide memorable posts on my Facebook page. I'm praying no video will ever surface.
The media has been reaching out from all over the world. While most interviewers are pros, a few could brush up on their delivery, eliminating their "ums", "ands" and "you-knows". A one or two-second pause is much more powerful. Their desire to fill dead air reminded me of my High School days.
My 11th grade Driver's Ed teacher, Mr. Hinkle, at Hastings High in New York would say the word "okay" at the start and end of every sentence. Throughout the term, a group of us had a betting pool going to see who would come closest to Mr. Hinkle's "okays" during a 40-minute class. Usually, a number between 120 and 190 was a safe bet. Sometimes, Mr. Hinkle would break deeper into the three-digit territory, uttering four or five "okays" in a row as he gathered his thoughts before his next sentence. A sentence which of course would start with another "okay". With every "okay" 20 students would mark down another notch on our paper as we kept track. If Mr. Hinkle stuttered with an "oh-oh-oh-kay", each "oh" counted for ½ an "okay".
The suspense was always exciting as we neared the final minutes of class to see who would walk away with our pot of money. Looking back now I believe it might have been Mr. Hinkle's devious ploy to keep us focused for the full forty minutes.
By the way, Mr. Hinkle only made the girls change the tires during our demonstration time. That was back in 1968 and the end of an era when we no longer opened doors for women or picked up their handkerchiefs.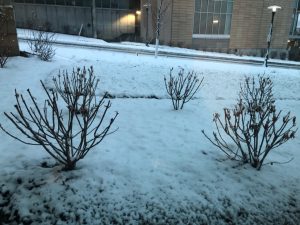 Day 39, Saturday
It's a snow day in Omaha. I pulled up my window shade. The ground was blanketed. Very cool for a Southern California boy who rarely sees the white treat.
After my nurse finished drilling yet another swab up both nostrils she pleasantly asked, "Anything else I could do?"
I suggested she go outside, make a few snowballs, reenter my quarantined room and throw them at me. She thought I was kidding. I wasn't.
Many readers have thanked my wife Jeri and me, along with our friends Mark and Jerri Jorgensen for openly sharing our experiences. Megan from Florida said, "Your posts actually give me comfort in all this chaos."
All the positive comments we're receiving make the occasional "f-you" we are still hit with worth our openness.
The Chinese foreign ministry is claiming in a tweet the United States planted the virus. If that's to be believed, then Elvis is still alive and hiding out as Rosie O'Donnell as I've read in more than one supermarket tabloid.
It's the Chinese who wouldn't allow our doctors in during their initial outbreak. It's the Chinese who had their young doctor die mysteriously. It's the Chinese who kept critical information about the coronavirus, COVID-19 from the rest of the world during their initial outbreak.
Watch the short Vox video I linked to earlier in today's journal. That's the real story.
Before I turned in for the night there was a knock on my door. My nurse entered carrying the perfect snowball. My day was complete.
Read All Of Carl's Journals Here: Carl Goldman Coronavirus Journals
There is currently no vaccine to prevent coronavirus disease 2019 (COVID-19). The best way to prevent illness is to avoid being exposed to this virus. However, as a reminder, CDC always recommends everyday preventive actions to help prevent the spread of respiratory diseases, including:
Avoid close contact with people who are sick.
Avoid touching your eyes, nose, and mouth.
Stay home when you are sick.
Cover your cough or sneeze with a tissue, then throw the tissue in the trash.
Clean and disinfect frequently touched objects and surfaces using a regular household cleaning spray or wipe.
Follow CDC's recommendations for using a facemask.
Wash your hands often with soap and water for at least 20 seconds, especially after going to the bathroom; before eating; and after blowing your nose, coughing, or sneezing.
Do you have a news tip? Call us at (661) 298-1220, or send an email to newstip@hometownstation.com. Don't miss a thing. Get breaking KHTS Santa Clarita News Alerts delivered right to your inbox. Report a typo or error, email Corrections@hometownstation.com
KHTS FM 98.1 and AM 1220 is Santa Clarita's only local radio station. KHTS mixes in a combination of news, traffic, sports, and features along with your favorite adult contemporary hits. Santa Clarita news and features are delivered throughout the day over our airwaves, on our website and through a variety of social media platforms. Our KHTS national award-winning daily news briefs are now read daily by 34,000+ residents. A vibrant member of the Santa Clarita community, the KHTS broadcast signal reaches all of the Santa Clarita Valley and parts of the high desert communities located in the Antelope Valley. The station streams its talk shows over the web, reaching a potentially worldwide audience. Follow @KHTSRadio on Facebook, Twitter, and Instagram.